Deleting individual keywords
Perhaps the most frequently requested feature is adding a cross to delete any particular keyword. Now you can delete them with just one click:

We tried to minimize the likelihood of accidentally pressing this button, yet if you want, you can still disable this feature in the settings: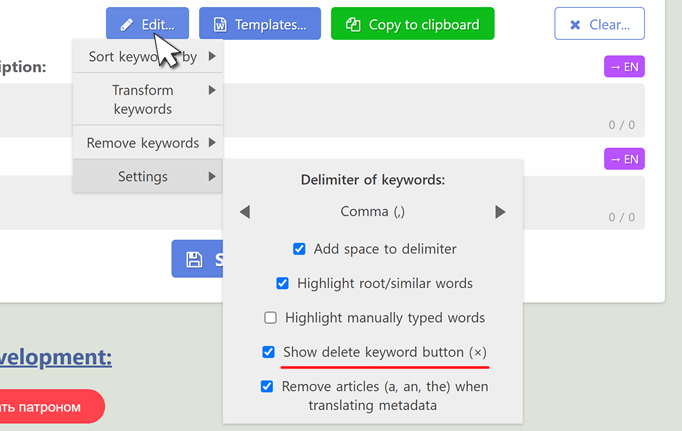 New Keyword Editing Features
New functions have appeared in the drop-down menu "Edit":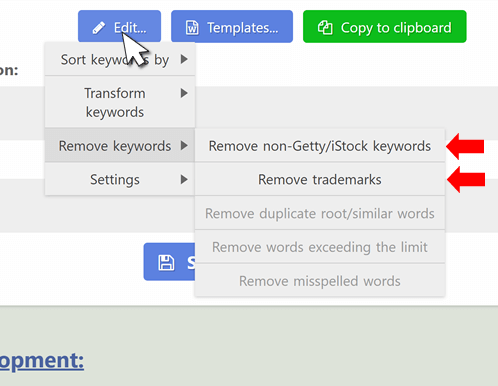 1. Remove keywords that are not on Getty/iStock.
This function leaves in the list of keywords only those used on the gettyimages and istockphoto microstocks. Using this feature will eliminate the need to specify keywords when uploading to these stocks. And if you want the list of suggested keywords to contain only such keywords initially, use the filter that we introduced earlier:

2. Remove trademarks
This function removes registered trademark keywords. Such keywords can only be used when uploading editorial materials, otherwise your work will be rejected by moderators. If you see a word that is not marked with the ™ icon, but which is a trademark, write to us. We will expand the list.
Translating metadata
Another frequently requested feature is the automatic translation of keywords, titles and descriptions into English. Previously, this function was only in our program ImStocker Studio, but now it can be used online in ImStocker Keyworder.
How do I use this feature? Simply enter text in your native language into any of the input fields — keywords, description, or title — and click the respective button next to that field.

You can also undo the action by making a reverse translation. To do this, press the same button while holding down the <ALT> key. The text will be translated from English into your native language, specified in the "Language for translation" settings.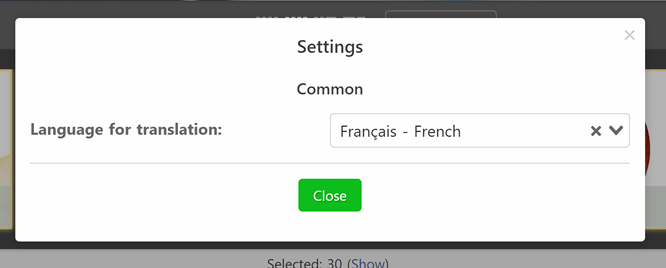 The function is available to all subscribers of PRO-version ImStocker Studio
Restoring a previous session
For quite some time now, our selection tool has had a function to restore the previous session. It helps in situations when you accidentally close the browser window, go to another page, or your light suddenly turns off. But, if earlier it restored only the selected keywords, title and description, now it also restores the search itself with the files selected in it.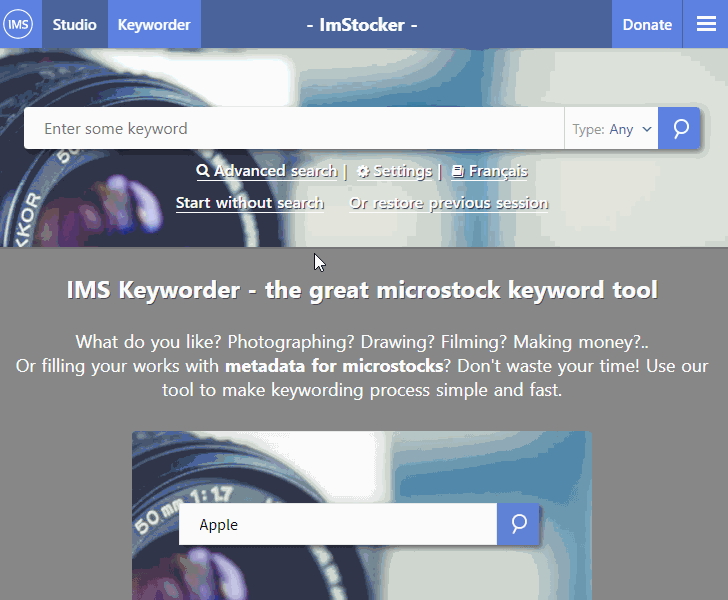 Multiple choices for autocompletion
Now, in the autocomplete function, you can select not just one option, but several at once with the ctrl key pressed

Auto-stretching of title and description entry fields
If you enter a long title or description, now the input fields will automatically stretch so that you can see them in full

Other improvements
Improved window for displaying an error about exceeding the request limit
Fixed minor bugs in the keyword editor