As you know, Getty and iStock have their own dictionary of keywords that can be used when describing files. Therefore, after choosing keywords collected from other microstocks, it is necessary to "refine" these words by selecting synonyms from the dictionary. To do this, click "Refine for Getty/IStock".
In the window that opens, you will see your keywords with suggested refinement options. The list of clarifications is selected according to a special algorithm, taking into account the context of all the keywords in the work. To select the appropriate clarification, click the checkmark next to it,

You can also use the "Select the first option for all" or "Reset" buttons. Don't forget that there is another important parameter - "For Editorial". If enabled, only words suitable for Editorial will be suggested. Customize the order of keywords for yourself (you can sort alphabetically).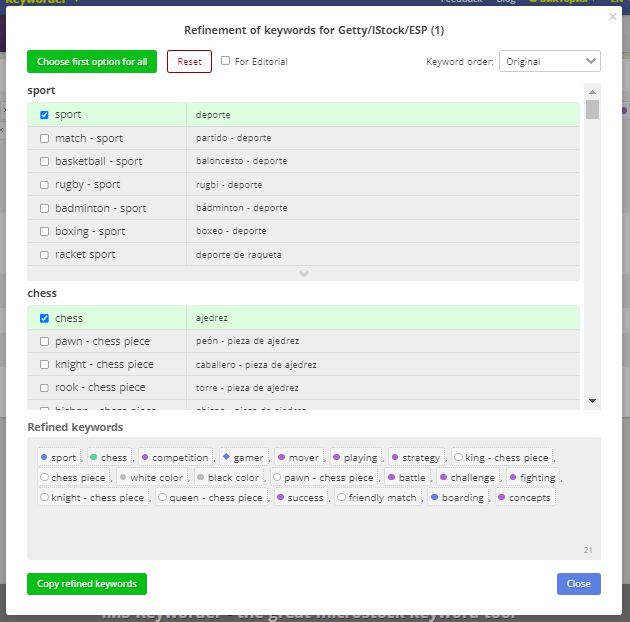 The result of your work can be viewed in the field "Refined keywords". Click the "Copy refined Keywords" button to copy the refinements and paste them into the files on the Getty/iStock site. ImStocker Studio has a similar feature, but with more saving options. In the program, for example, you can save refinements to files and use the submit function.
Back to the keyworder) The window will not close itself until you click "Close". It is designed so that if you accidentally click outside the dialog box, you will not lose the selected refinements)
Almost missed one important point. This feature is available only to PRO-users (https://studio.imstocker.com/en/prices). But if you want to try this feature in action first, you can activate our unique 30 day trial. a mode that will allow you to use all the functions of the ImStocker Studio program without limits.

We hope we can bring you more updates. Subscribe to us on social networks (https://t.me/imstocker_en - here we publish our news) and write your suggestions and recommendations in telegram chat (https://t.me/imstocker_chat_en) or send a feedback form (https://imstocker.com/en/page/feedback?product=ims-studio). See you again)