New file types
IMS Studio has new file types: release and source.
To add a release, you need to select one or more files, go to the "Additional" tab. and click on the "Add (to all)" button.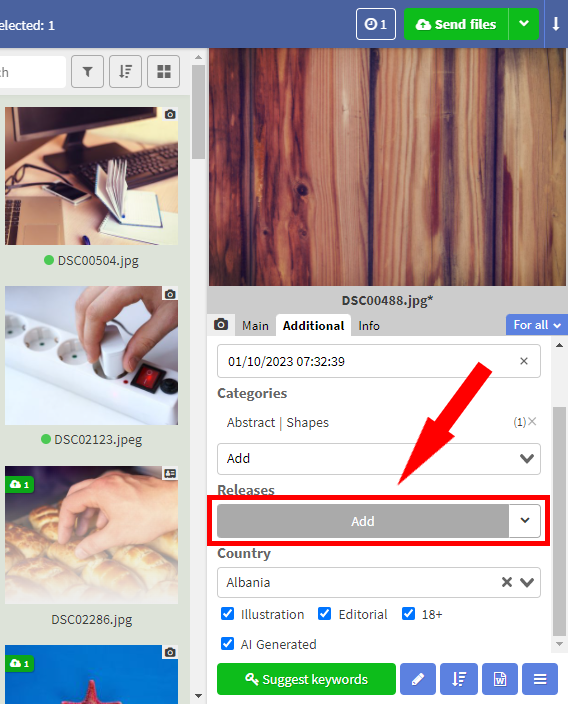 In the window that appears, select the desired file. A new window will open in front of you, where you can set the parameters. Depending on the type of release, there will be different options:
For the "Model release" type, you can set the shooting date, first name, last name, gender, date of birth, ethnicity, country, and release form.


For the "Property release" type, the date of shooting, the name and owner of the property, as well as the country and form of release are indicated.

To edit a release, you can either click on the corresponding element in the "Releases" section, or find the file in the program and change its parameters through the "Main" tab in the "Metadata Editor". To make it easier to distinguish a photo from a release in the list of files, releases are marked with a white highlight at the bottom and the model/property name is indicated on the tile. Don't forget also that you can use the file type filter)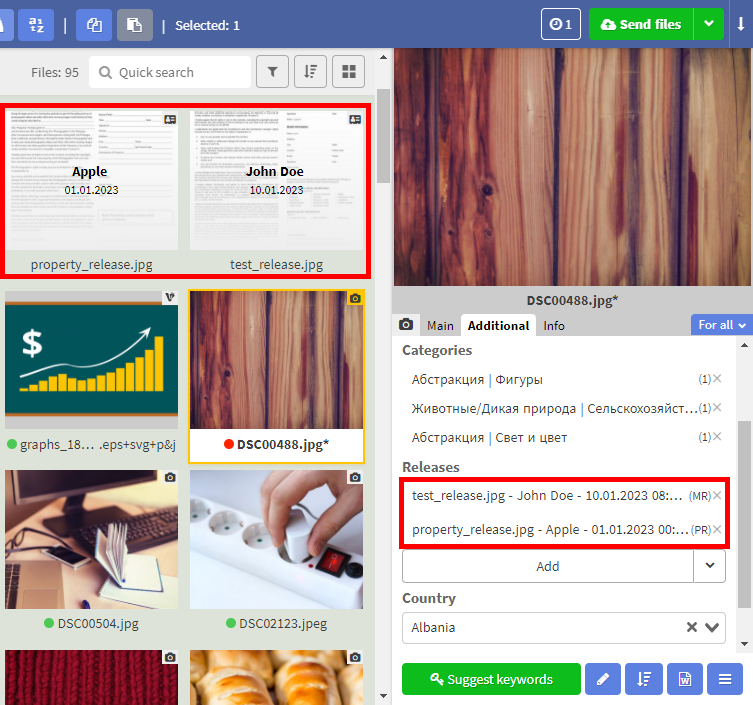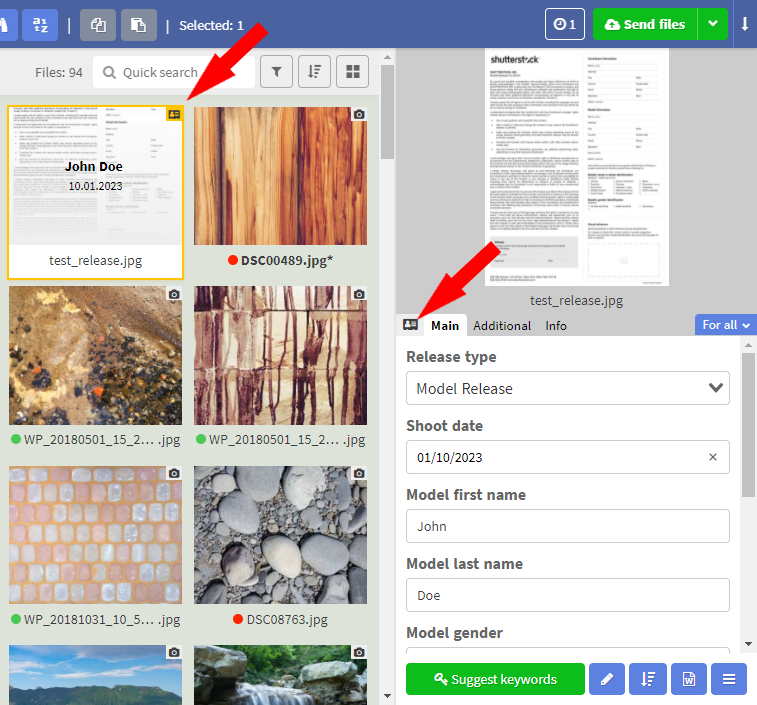 Recently used releases can be quickly found using a drop-down list. When you click on one of the items, the release will automatically be added to the selected files. To delete a specific release, click on the cross and confirm the action.
If you accidentally choose the wrong file for a release (and now you cannot change back its type to photo), delete the file with the same name but with the extension "*.ims-props". In this case, the file will no longer be a release.
So, now let's figure out what refers to the "source" files. Sources are files with the extension
"cr3", "cr2", "nef", "arw", "dng", "raf", "dcr", "tiff" or "tif". They are indicated by an icon in the form of a file with a curved bottom corner. Working with sources is similar to working with other types of files.
Categories, countries and more
We present to your attention new features in the "Advanced" tab. in the "Metadata Editor":
An improved button for displaying metadata with a drop-down list, where you can view the metadata of individual files, as well as synchronize them with each other, or delete them altogether.


As mentioned above, you can attach a model release to files)
Adding categories is now a reality! But keep in mind that one file can be assigned no more than 3 categories.
In addition, you can add new marks to the file, such as "Editorial" (editorial image or video), "18+" (intended for adults), "Illustration" (upload photo as an illustration), "AI generated" (file created using artificial intelligence).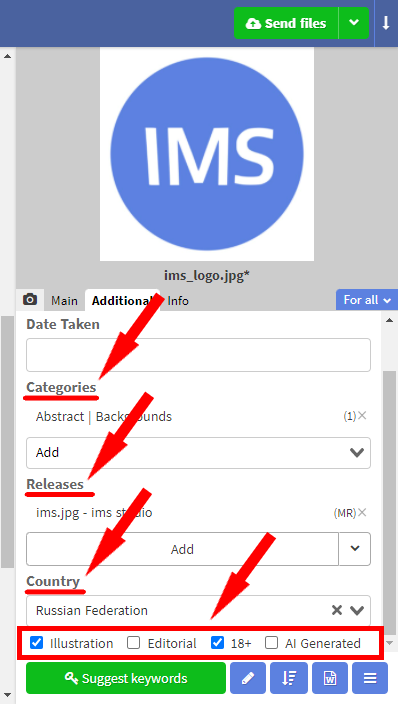 CSV export/Import metadata
New features for exporting and importing metadata.
Added additional column types for CSV templates: "Editorial?", "18+?", "Illustration?", "AI generated?", "Releases" and "Formula".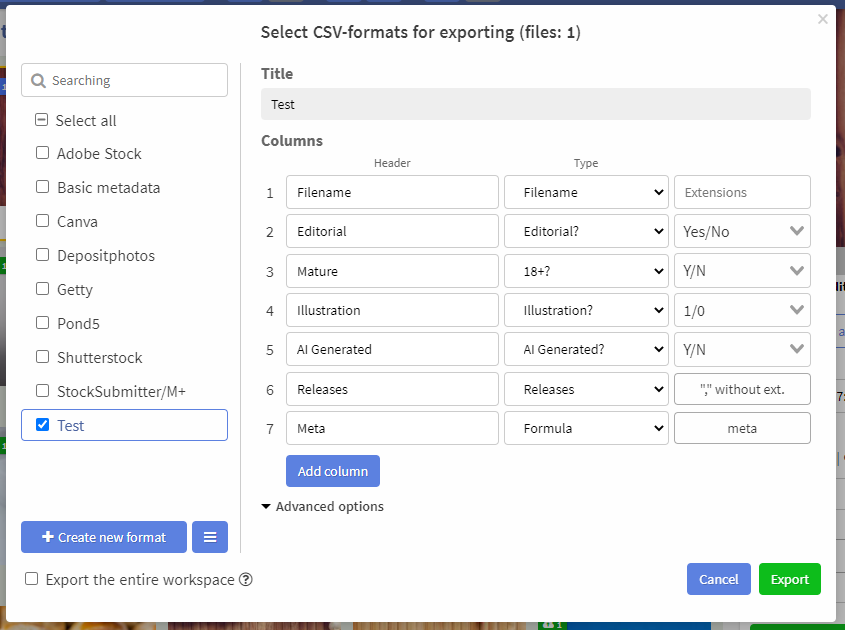 For column types "Editorial?", "18+?", "Illustration?" and "AI generated?" you can select how the value is displayed ("Yes/No", "Y/N", "1/0").
For the "Releases" type, you can set the separator and output method ("File without extension (model)" and "File with extension (model.jpg)").
For "Formula", you need to specify a formula (for example, "meta.description" - the file description will be placed in the column).
For "Keywords" you can now select a delimiter ("," or ";").
Moreover, the function of importing csv-metadata without taking into account the file extension has appeared. Click corresponding checkbox to use this feature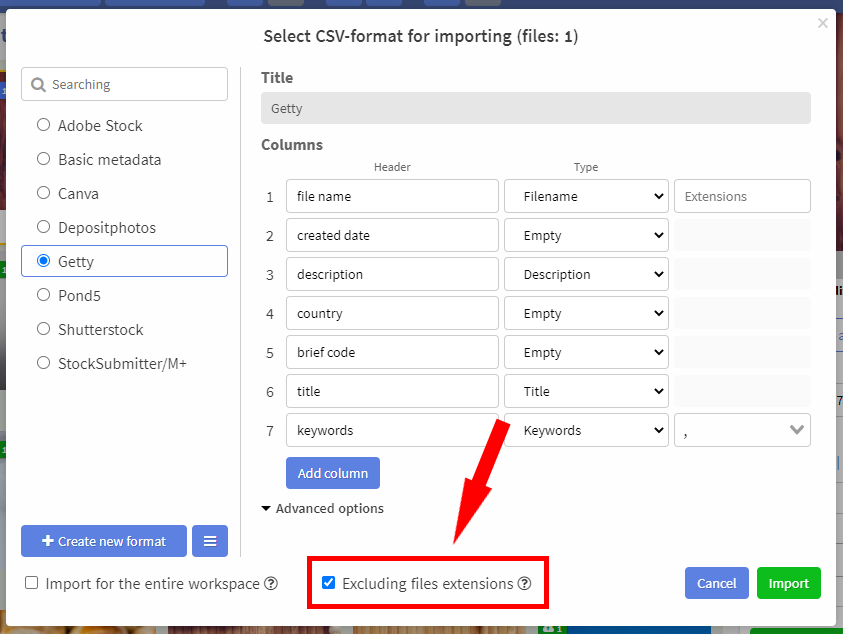 Other changes
New item "Prefer to read metadata from a JPG/JPEG file" in the settings section "File formats" (useful if your metadata is stored not in the main file, but in the JPEG preview).
New setting "Automatically retry download on error" in the "Upload and submit" section
Added commands "Clear list of all workspaces" and "Restart application" in the "Other" settings section.


Added the ability to change the shooting date without changing the time when selecting multiple files.
Fixed random distribution of words hanging when selecting multiple files with non-empty keywords.
You can now set keyword limits for individual metadata sets.
Improved sorting "Random first N words". Now you can only sort the first N words.


Support for moving scheduled downloads.
Our story about IMS Studio 2.0.0 has come to an end, but we are not saying goodbye) IMS Studio 2.1.0 will be released very soon. What's in store for you in the next issue? Let this be our little secret) We wish you success in business, and may good luck smile upon you this year. See you again)
P.S. Do not forget to subscribe to us on social networks (https://t.me/imstocker_en - here we publish our news, https://t.me/imstocker_chat_en - and here you can ask a question or chat, https://twitter.com/imstocker - twitter page) to be the first to know about the latest updates!